About ZAO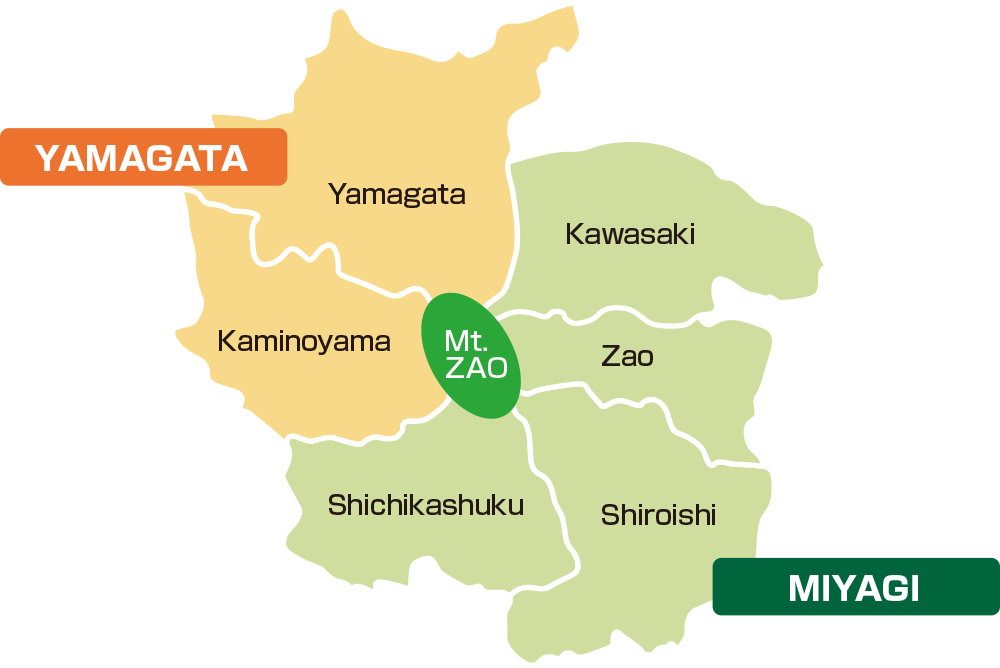 ZAO refers to the area of three cities and three towns next to the famous Mount Zao,
which is located along the border between Yamagata and Miyagi prefectures.
ZAO is rich in nature in Tohoku. There are many popular places like Okama and Fox Valliage,
as well as leisure facilities like Onsen and the ski resort. You can also enjoy gourmet food, including umen and soba.
There are so many activities that you and your friends can enjoy.
Don't miss ZAO when you come to Sendai or Yamagata for sightseeing,
you will find it to be a "beautiful", "happy" and "delicious" place!
◀︎ Miyagi Zao Fox Village

It's a fox village which is even rare in the world.
You will definitely be cured by these fluffy foxes!
You can take Shiroishi city bus "Castle-kun" from JR Shiroishi Station to get there.

◀︎ Onsen

ZAO area is filled with many Onsens. There are many facilities where you can enjoy footbath and one-day trip onsen.
There are many types of onsen, so you can also make it an onsen trip of your own favorite style.
#zaopics Instagram
@armedzerox
@leia_6451
@ssyy.www
@tohoku_girl_official
@tokyotiff
@zooshincheng
@annagram_103
@botdog
@danieletran
@jannabanini
@jenhong1019
@paumiwang
@shujongchen
@xinpeihu
@nadia chou
#zaopics Winners
@andrewjktan
@tohoku_girl_official
@jenhong1019
Collaboration organizations list
Shiroishi City
Zao Town
Sendai International Airport

Michinoku Tour Information
Toyota Rent a Car
Nippon Rent-A-Car
ORIX Rent-A-Car
Times Car RENTAL
Budget Rent a Car
Nissan Rent a Car

Sendai City

Times Car RENTAL - Sendai Train Station East Exit
Shichikashuku Town

Kawasaki Town

Sankeinoyado Ryusen【LINK】

Yamagata City

Yamagata Station Tourist Information Center

Kaminoyama City

Kaminoyama Hot Spring Information Center